Sunday 21 July, 2019 |
---
What's Your Wedding Favors On Big Day(Keep Watching)
by admin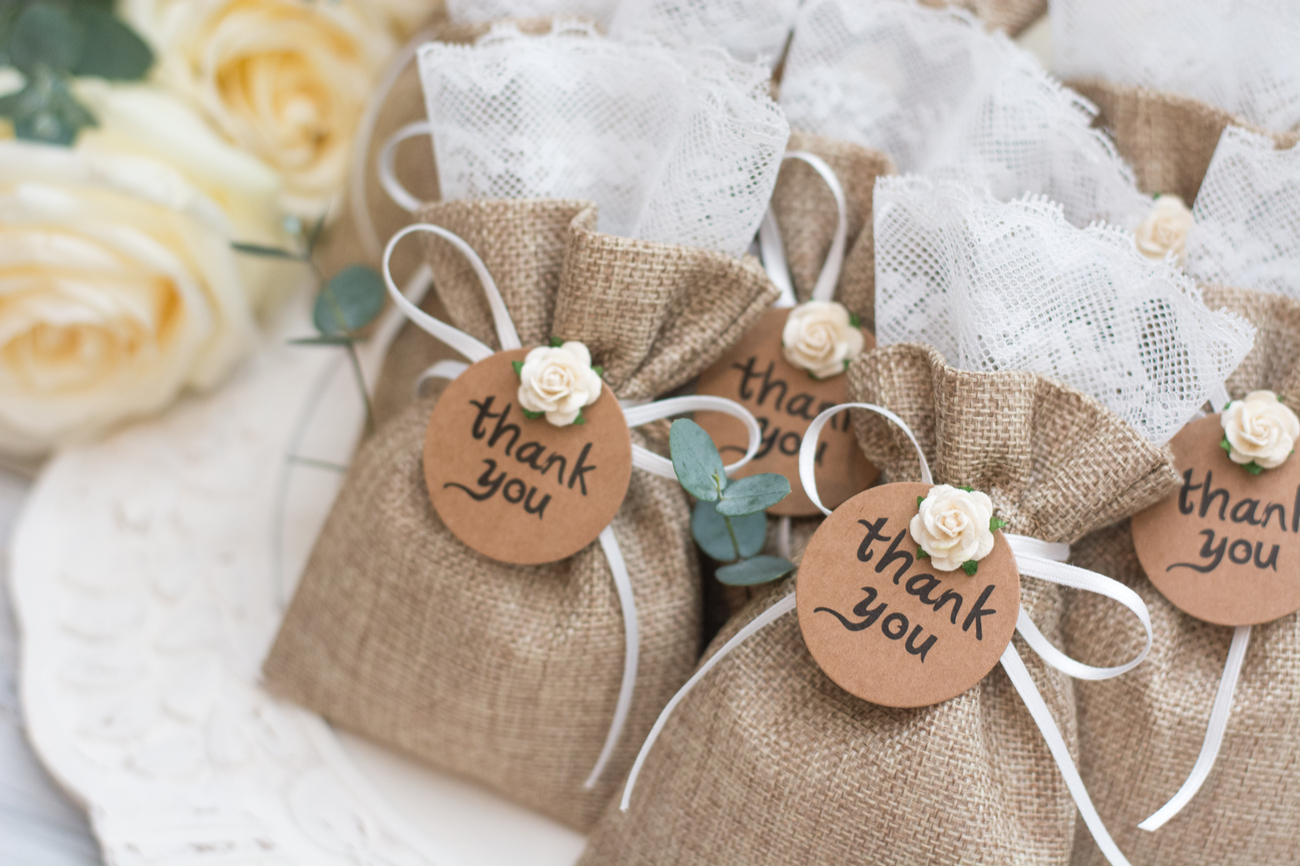 On your wedding day it is important to say "thank you" to all the attendee and the perfect way to do so is personalized wedding favors. These gifts show that you are genuinely happy that the attendees were a part of the most memorable day of your life. Couples can design and present their unique and personalized wedding favors to all those present.
Planning
While planning your personalized wedding favors, you must remember to choose something elegant and yet not have to pay extra for them. To avoid unnecessary expenses, you can order these gifts in bulk; the more you order, the lesser you have to pay. You can personalize the gifts by engraving the bride and groom's names on the gifts, or you could just get the date embossed on the gifts. Planning in advance about these gifts will ensure that your wedding stands out amongst the other weddings that people attend. Several online stores offer several choices on these products and you can design the way your gifts look.
Gift Suggestions
There are several personalized wedding favors for you to choose from. You can offer chocolates, beaded clutch purses, silver frames, coffee, tea, soaps, plants, shot glasses, water bottles, spiral notepads, playing cards, sterling silver rings, wine stoppers, towels, photo frames and tote leather bags.
Groom & Bride Gifts
Commonly, the bride will buy a gift for the groom and the groom will buy something for the bride.
Although these gifts could be presented within days or even weeks before the wedding, a beautiful option is to have the special gift delivered to the other person the day of the wedding, usually at the church.
Again, choose a wedding gift that is special, perhaps a wedding jewelry item that can be worn on the wedding day.
Bridesmaid Gifts & Groomsmen Gifts
The bridesmaids and groomsmen should be recognized for their involvement in the wedding. Typically, the maid of honor and best man are given unique gifts while the bridesmaids and groomsmen receive the same gift or gifts of equal value.
For instance, a bride might purchase a personalized spa set for the maid of honor while the bridesmaids might be given monogrammed travel bags and jewelry pouches.
The groom might give the best man a set of leather, monogrammed coasters while the groomsmen might be presented engraved glass mugs.
Here are show your 10 wedding favors;
Wedding Favors are bought for the guests that attend your wedding and reception as a memento and a "Thank You" for sharing your special day.
1.Miniature Silver or White Galvanized Pails - a tried and true wedding favor packaging option, these little buckets of joy can hold so many sweet things! Great for the DIY crowd, there are so many uses for these little wonders! Place a personalized sticker on the front, or add ribbon and flowers (think scrap booking supplies), add flower foam and insert little lolipops for a miniature spring garden. Or if you're the candle type, there are many craft stores which sell candle kits. You can use these as containers for your very own candles. If your the traditional type, simply add candies, sweets or other treats to these pails. For the eco-friendly brides, you can plant little miniature spring gardens in them. The possibilities are endless.
2.Chrome Heart Bottle Stoppers - We offer a beautiful chrome bottle stopper which comes with free personalized tags. However, most of are heart shaped wine bottle stoppers do very well. Hearts are traditional symbols of love and bottle stoppers (which can be used in any bottles to form a seal, not just wine) are functional and practical wedding favors.
3.Personalized Theme Candy Jars - available in 27 designs and color schemes, these little vintage inspired retro candy jars are cute and fun! Simply fill them with your favorite treat, add a personalized label (which is included) and you have a perfect edible wedding favor. But beware - these jars do hold a lot more candy than they appear to! We can fit 22 to 26 Jordan almonds in one jar alone. You will need a lot of candy to fill these containers.
4.Personalized Shot Glass / Votive Holders - a personalized favor all in one. For those who choose not to drink, these shot glasses are shaped to hold votive candles or tea lights. These also make great personalized reception decorations. If you don't want to give your guests an empty shot glass, fill with candies or a candle and insert in an organza bag.
5.Beautifully Beaded Place Card Frames (In Silver or Gold) - Classic, elegant, timeless and useful these place card frames are a great value for the price. With a velveteen back, they can stand vertical or horizontal. Included is a glass insert and a place card. The brushed metal frames are beautiful and gorgeous to hold. It serves to first seat your guests at their table then they can take it home to display your wedding photo. These frames were featured in the movie 27 Dresses and in various bridal magazines.
6.Two Of A Kind - Personalized Playing Cards - whether you are having a Vegas wedding, a casino themed event or are just looking for a practical and useful favor that all your guests can use, these playing cards are tops among our brides. Personalize in 12 different label colors with your names and date.
7.Cakery.Cookies, cakes, and pastries wedding favors ~ Edible items have always been a popular favor at weddings. Some couples opt to have individual cakes or cakes at each table in lieu of a traditional wedding cake. Cakes, cookies, and pastries can be used as table centerpieces and as favors. Many couples who opt to use these as favors generally have them in boxes. These items are very easily personalized and can make for tasty desserts (as well as late-night snacks for later!)
8.Clutch Purse - these sell amazingly well for bridal showers, bachelorette parties, baby showers, girl's night out and sweet 16's. A sweet looking mini purse fits neatly into your bag and contains all the essentials: a tweezers, scissor, nail clipper and emery board.
9.Handbag Design compact mirrors - what woman doesn't have a mirror in her purse? These are great inexpensive (under $1 dollar) favors perfect for a variety of events and functions.
10.Rose Ball Candles - Miniature buds in the shape of a ball and scented with a rose sent make these little candles a delightful wedding favor. In your choice of pink, red or white and with free personalized tags these classic candles are too good to pass up.
Budget on favor;
If your wedding is smaller you may have room in your budget to spend more per favor.
The first thing you want to consider is the number of guests that you want to invite. The number of guests should be first determined as it will be multiplied by the cost of each favor, and from that you will know the total amount that you have to prepare. Inviting people can be sometimes confusing as will never know who to come and who cannot. If you are fairly sure that certain guests will not be able to come to your wedding, make a rough estimate of the number of guests that are quite sure to show up on your wedding day.
Once you establish that figure, you are now ready to make a budget. There are a few different ways to create a budget, and the first one is to determine the amount that you can afford to spend. That amount will then be divided by the number of possible attendees. More importantly, you have to remember that there maybe other extra charges like tax, shipping, and gift wrapping fees that will be added.
Another way to set a budget is to look around and find out estimates on favors that fit your taste. This will help you determine the cost of favor per person while picking the something that you think is appropriate for them. Once you figure out the number, you can then multiply it by the number of guests on your wedding day. Either way, if you can afford the cost of your wedding favors, purchasing can be done easily within that price range. However, if the total amount is more than what you expect, you need to consider looking for less expensive options in the market or maybe online.
You might want to look for your possible wedding favors on various websites. The price of online goods are often cheaper than products sold at local stores. Order your wedding favors and other wedding supplies in bulk so that you can get a great discount from a wholesale dealer. There is a much wider selection of party favors that you can find online, and you can personalize them with your names, wedding date and a short phrase or poem.
---
---
---
---
---
News for Thursday 18 July, 2019
---
View all news for Thursday 18 July, 2019 on one page
---
---
---
Recent News
---
---
---