Friday 17 May, 2019 |
---
2019 16 Type Trend Clutch Purse Should Have for Wedding
by admin
Before you choose clutch purse for your daughter wedding, This information you should to know
Determine What You Want
Get style ideas from magazines.
Determine the size you would like to have.
Choose whether it will be for casual or formal wear.
Decide what fabric you would you like to feature on your purse.
Choose the type closure or hardware that best suits you and your purse.
Select your lining fabric.
16 type of clutch purse
Let's break down now

Choose a small bag which has pockets
Even though a small bag is not going to hold a lot of items there are varying sizes available. You may want to consider a clutch handbags that has some pockets. This helps keep items organized and easy to grab when you need them. One of the popular purses has a cell phone pocket and slots for credit cards, driver's license, and other card size documents.
Consider a clutch with a strap
Most small bridal purse comes without a handle or strap which means that the user has to hold it in their hands all the time. Depending on the activity you are attending, this can be very inconvenient. There are some situations when it would not be practical to set the bag down. Today's designers thankfully offer clutches with handles and detachable straps. For instance, Gucci has an elegant bag which has a chain strap for a very modern look.
Choose a bag that matches your body type
By design, a clutch is a smaller sized designer purse. However, they are still available in some varying sizes. It is very important to choose the clutch that is proportional to your own body size and type. Petite women can get by with carrying a small or medium-sized bag. Taller women can choose a small bag that is on the slightly larger end of the sizes.
Make your dreams come true. Jewell's fashion designer handbags at wholesale prices can save you time and money. You can shop from the comfort, convenience and safety of your home. Save up to 50% from the Manufacturer's Suggested Retail Price. The exquisite bags and accessories are New and the Quality of the workmanship and the Authenticity of the designer brand name are guaranteed.
Here show to you 16 type of clutch purse for your choice

Material: Top-grade Diamond A, which is Sparkling and Dazzling. black crystal and silver metal. silver-tone bow clasp and frame, which can be opened and closed smoothly. Soft black satin lining.

Enough to fit the big phone, Lipstick, Compact, Sunglasses, Mirror, Money, ID Card, Tissue, etc.

Chain:A long detachable O shape chain drop 22 inch, you can wear it as crossbody/shoulder or clutch in hand.

Specialty: Exquisite Bow Clasp. Beautiful Chevron pattern. Fully hand-made rhinestone. Well structured, Big Capacity, Reasonable price and Fashion design. You deserve to have it.

Occasion: It is the best women accessories to go formal prom, cocktail, wedding party, shopping or a night out. Great gift for mom, girlfriend, female friend at birthday, anniversary, valentine's day, or Christmas.
1. Material: Handmade full leather with very soft hand feeling, silver hardware, and Fabric Lining. Note: please allow slight color difference due to different monitor settings.

2. Fits most big-screen smartphone, including: Apple iPhone XS, XS MAX, 8 Plus, 8, iPhone X, Samsung Galaxy Note 8, S9 Plus, S9, S8, S8 Plus, Google Pixel 2, 2 XL, LG V30, Huawei P20 Pro, Sony Xperia XZ Premium, OnePlus 5T or any phone no bigger than 6.5 inches.

3. Wallet: Inside: a full-length apartment with cash pocket, 6 card slots and 1 interior zippered pocket for coins. Outside: one zipper pocket from the back. Large enough to fit checkbook, passport, a big screen cellphone and all other the essentials but also very compact that doesn't get in the way.

4 Removable crossbody shoulder strap was adjustable. Could be used as a wristlet or a crossbody purse while traveling.
Large Capacity: The main compartment fit up 7 Plus well, mirror, a folding hairbrush, small bottle of perfume, lipstick, jewelry.

Flower Design: the surface decorated by the variety of pearl and flowers which are made of satin and PU. The exquisite and elegant style match your various styles of clothes, dress and shoes. Made you 100% attracts lots of admiring glances.

Superior metal frame construction with shiny and fashion pearl outside and soft satin lining. It is easy to clean with ordinary waterproof (but please do not soak in the water)

Unique design: Good evening clutch bag are perfect for night out, date, cocktail party, family reunion, prom, banquet and so on .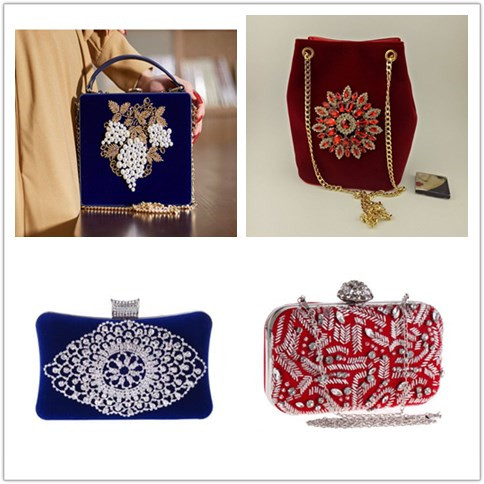 Polyester Material: This evening bag is made of high quality and special Polyester material, it has tiny glass beads floral design on the surface. The evening clutch features a detachable wristlet. When you took it, elegant, shiny and modish only for you, catch one's eye for the first time.

Unique design evening bags are perfect for a night out, date, cocktail party, family reunion, prom, banquet and so on.

Applications: Christmas Gifts, New Year's Gift, Anniversary gifts, Birthday gifts, Mother's Day gifts, Women's Day gifts, Valentine's Day gifts for her/yourself!
Conclusion;
The clutch purse is a refined fashion accessory that every woman should have. It is best to have one that you can wear with anything. Bulky purses can ruin any perfect dress and drag dirt and dust around. A clutch purse is neat and easy to carry, and should be a wardrobe staple. Look for clutch purses for any kind of event. They can be made of plastic, satin, silk, or even candy wrappers. For a timeless, classy look, stay light with this tiny bag.
---
---
---
---
---
Other news for Friday 17 May, 2019
---
View all news for Friday 17 May, 2019 on one page
---
---
---
News for Friday 10 May, 2019
---
View all news for Friday 10 May, 2019 on one page
---
---
---