Friday 20 May, 2022 |

---
Top 22 Fall Wedding Color Ideas Working Great For 2022/2023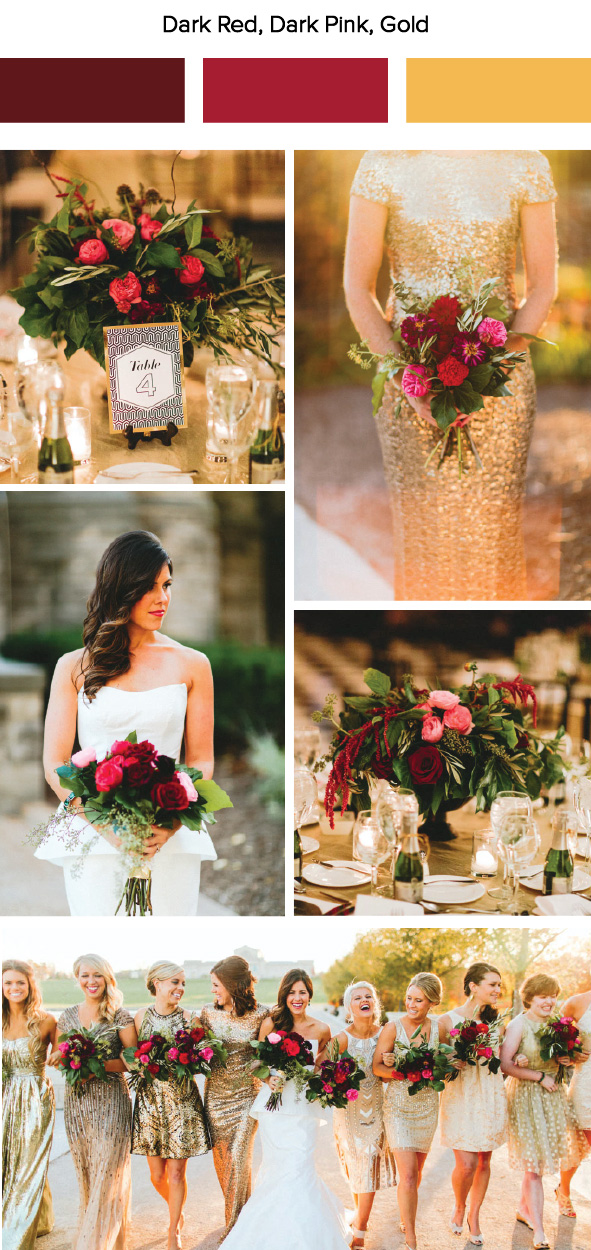 What Fall Wedding Colors Look Suitable for Wedding?



The fall wedding color nature and cooler temperatures make it one of the ideal times to host a wedding.
It is no wonder that a rustic wedding is a popular theme for this time of year.
Autumn is a season for bountiful harvests, and the Fall Wedding Colors that come with it indicate that.
Let's break down the list of fall wedding colors.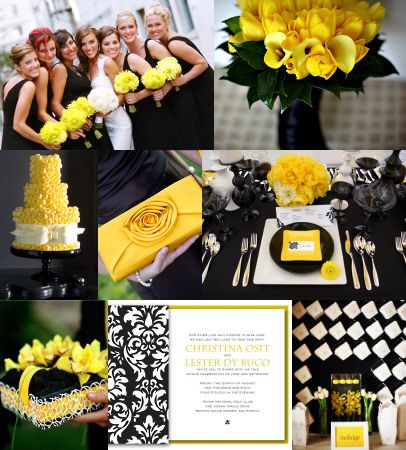 1. Yellow, Gold, and Black
The bride wears a white gown with golden wedding jewelry, and her bridesmaids wear yellow dresses.
The groom and other men wear black tuxedos with golden neckties and pocket squares.
Use white tablecloths with pale yellow coasters and napkins. Buy bright, golden flowers and set them on the tables and around the room.
Serve yellow punch, white wine, and white cake with white frosting and gold-colored trim. This color combination echoes the gold of the couple's wedding rings.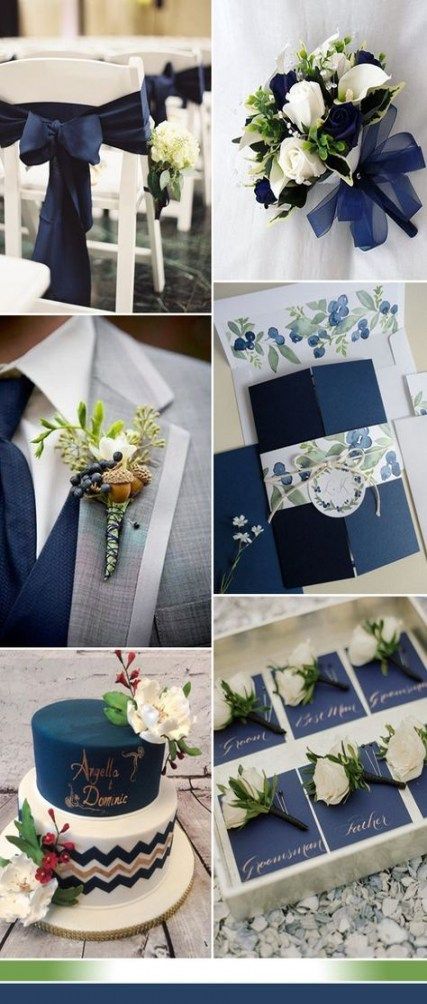 2. Pale Blue, Blue, and Navy
Autumn is when the nights get longer and more relaxed, Embrace this with a wedding that features several shades of blue.
With this wedding color combination, the bride's white gown looks beautiful against the blue worn by the maids and the groom.
The wear room wears a very dark navy or black suit, and all the other men wear a navy suit adorned with a pale blue tie and a pale blue pocket square.
Couples use pale blue table cloths and use bluebell flowers to adorn tables. Order a cake of any flavor but be sure to have it frosted with light blue icing and navy edging.
Send pale blue invitations in a navy envelope. Be warned: these wedding colors only work if you pick three distinct shades of blue and carefully stick to them in purchasing decorations, clothing, and food.
Pull it off, and guests will forever remember the class and elegance of your brilliant blue wedding.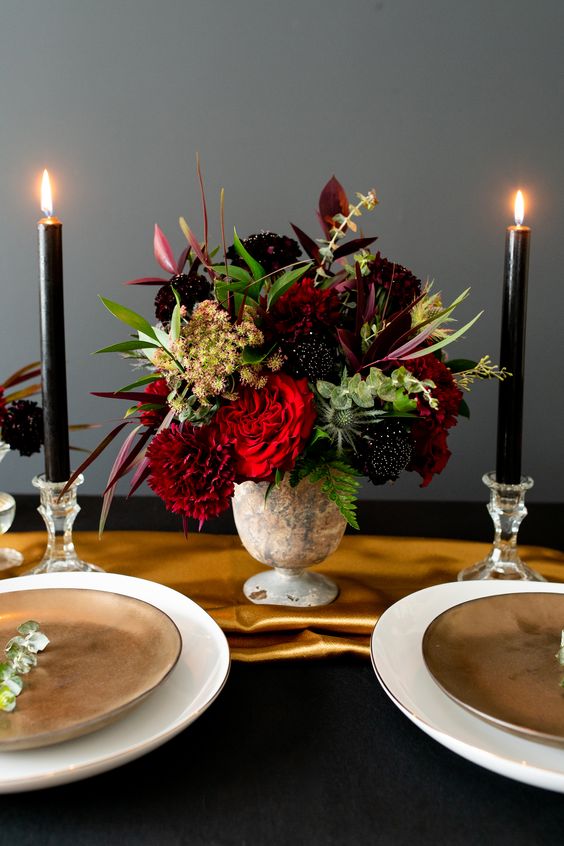 3. Black and Scarlet
If red signifies passion, then scarlet signifies electric passion. Scarlett and black make for a dashing and romantic wedding color combination.
The bride wears white, and her bridesmaids wear black dresses. The groom and his groomsmen wear a black tuxedo with a black bowtie and a shiny black pocket square.
If you like, men may also wear black top hats. Since everyone except the bride wears black, she is easy to spot in her brilliant white dress and automatically becomes the center of attention.
Use black tablecloths topped with bottles of red wine and adorn the room with brightly colored red roses.
Serve a red velvet wedding cake topped with dark chocolate icing. Fall Wedding Colors combination is for the genuinely and deeply in love couple.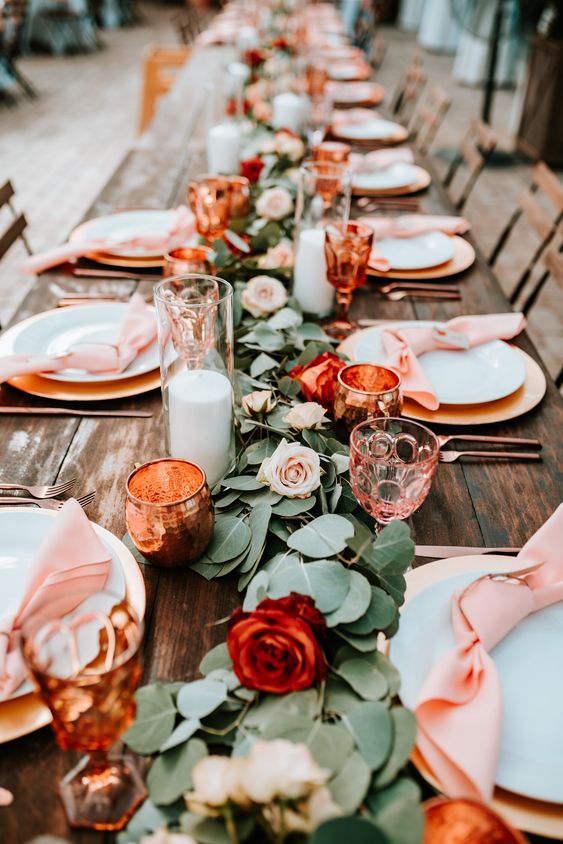 4. Burnt Orange, Brown, and Yellow
Fall is a great time to get married - a fall wedding allows you and your new spouse time to nest in preparation for winter.
A burnt orange, brown, and yellow Fall Wedding Colors pallet stand for warm domesticity and class.
The brides always, the bride wears whiter bridesmaids wear yellow dresses.
The groom and groomsmen wear black with burnt orange neckties and yellow pocket squares.
Serve carrot cake topped with a yellow frosting and white wine or punch that is a rich, yellow color.
Decorate the room with lemon wedding favors, yellow roses, burnt orange tablecloths, pumpkins, squashes, and fallen leaves.
This wedding color combination is delightful around Halloween and Thanksgiving.
Autumn wedding reception ideas are your chance to put a unique twist on your big day.
No season offers as much to a wedding as fall, so take advantage of this beautiful season.
The fall season offers many great opportunities and can spark great ideas on your wedding day.
From your ceremony to your wedding theme and favors, autumn is a magical time to get married.
We have the creative ideas to help you fall in love with your wedding and how to add that spice to your fall wedding.
It can be from your colors to the reception location, reception décor, beverages, and your guest favors.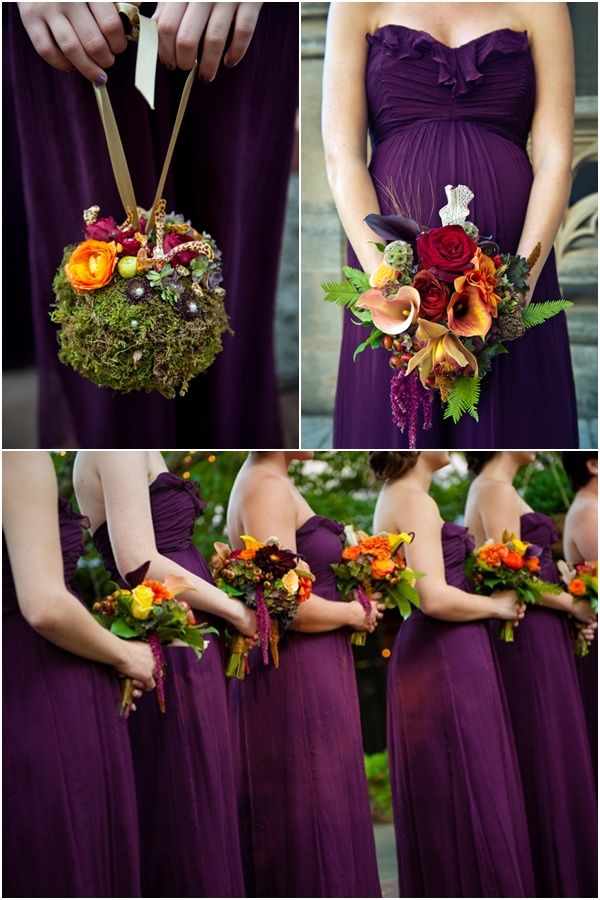 5. Deep Orange and Purple
Deep orange and purple are a lovely mixture for a bridal party. Because these colorations are closest to every different coloration wheel, it is an excellent concept to add a 0.33 color as an accent.
However, a little bit of inexperienced or teal brought to this scheme will stabilize the richness of the hotter shades.
Because now, not everybody appears proper in orange, it is wise to pick crimson as the primary color.
If you should have your bridesmaids put on orange, have them pick out their clothes in a shade of their choice. It is a pretty vogue for attire to be individualized. You can have your bridesmaids put on matching necklaces and rings if continuity is essential to you.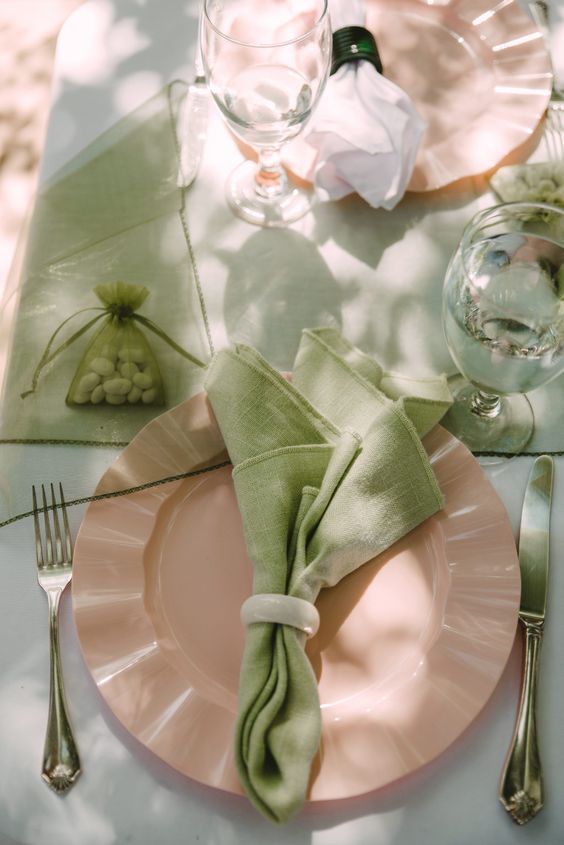 6. Sage and Cream
Sage and cream are gorgeous collectively and best for a fall wedding. Because these shades are lighter, add depth with brown-hued accents.
The bride can put on a cream or off-white wedding ceremony gown and elevate a bouquet tied in a sage-colored ribbon.
The bridesmaid's clothes can be the equal color of inexperienced, while their perfumes are made of cream-colored blossoms tied with willow branches for a rustic feel.
If your wedding ceremony is outdoors, the bridesmaids can additionally put on cream-colored pashmina wraps or shawls to continue to heat besides sacrificing style.
For a lovely touch, the flower female can drop fall-colored leaves and ivory flower petals on her way to the altar.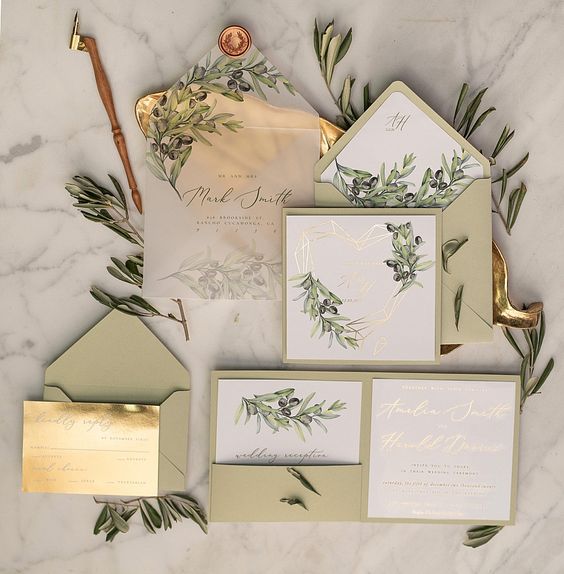 7. Ivory
The ivory shade, which is best for a formal affair, seems exquisite. Decorating your wedding ceremony with colors of ivory is a beautiful, standard wedding ceremony design.
Even working inside this restrained coloration palette, there are many unique reception flavors that you can create.
For example, the mixture of flowers, linens, and different accents that you select can make your wedding ceremony seem traditional, modern, or something in between.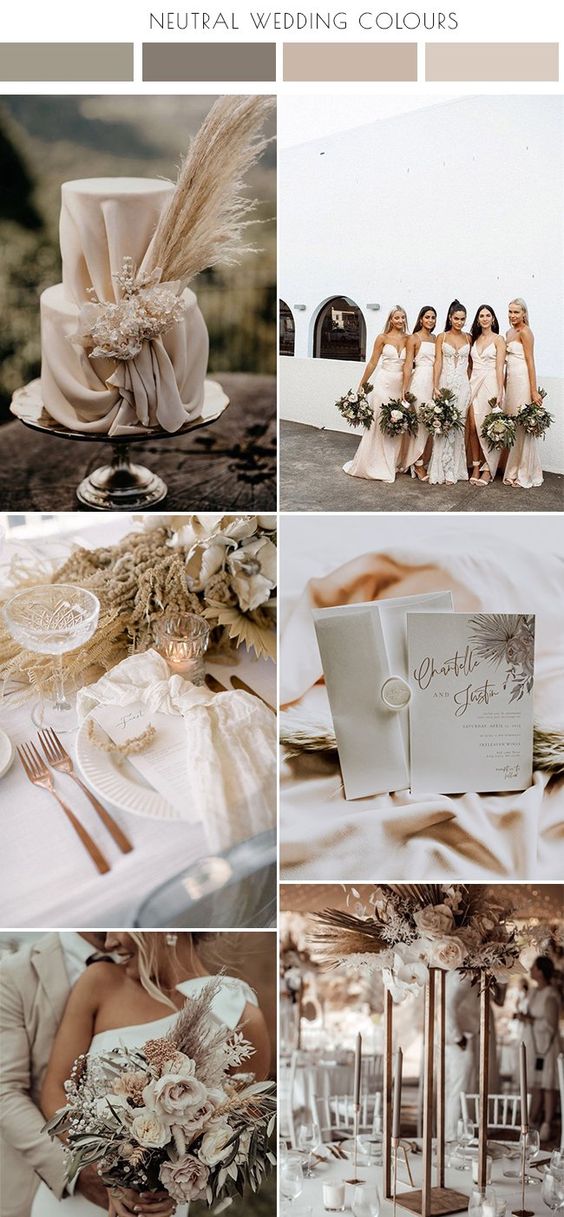 8. Champagne
Champagne is usually produced using a combination of white Chardonnay grapes and black Pinot Noir grapes (though different varieties, like Pinot Meunier, are additionally used). Rose Champagne has a tiny crimson wine introduced to create its signature purple color.
That may want to be a beautiful preference for a red-themed wedding ceremony celebration.
It used to be first loved by royalty; consequently, the affiliation of Champagne with being luxurious. There is nothing like sipping a quality glass of the bubbly; all decked out in an appropriate bridal robe and crystal bridal jewelry.
Between the Champagne and the glamorous crystal bridal jewelry, you are positive to experience yourself, at least for one day.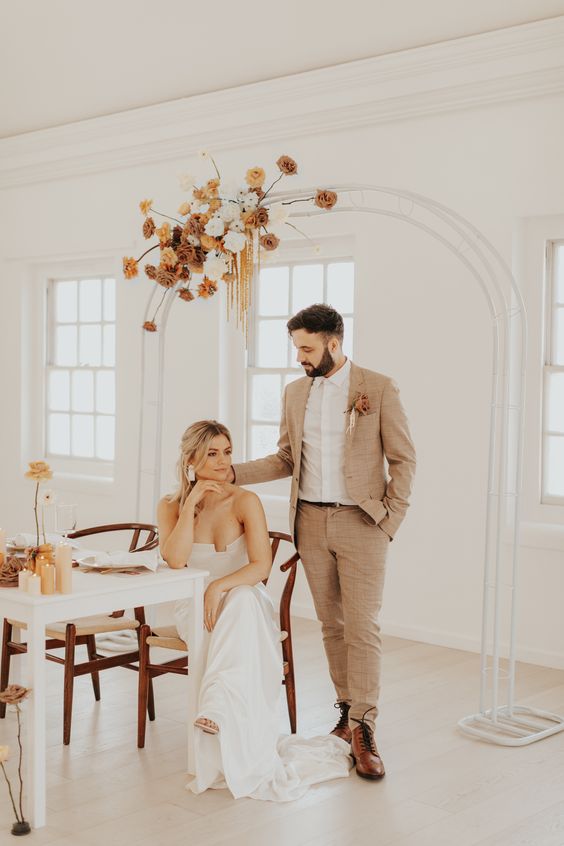 9. Tan
When it comes to wedding ceremony day tanning, an advisor can personalize the tans of your whole bridal birthday celebration to ensure constant and complementary colors.

I noticeably endorse the use of a cellular tanning therapist.
It will permit for some distance increased alleviation and flexibility - you can effortlessly put on as little as you like for a superior tanning experience. You might also select to put on a gown or free garb even as you wait to shower.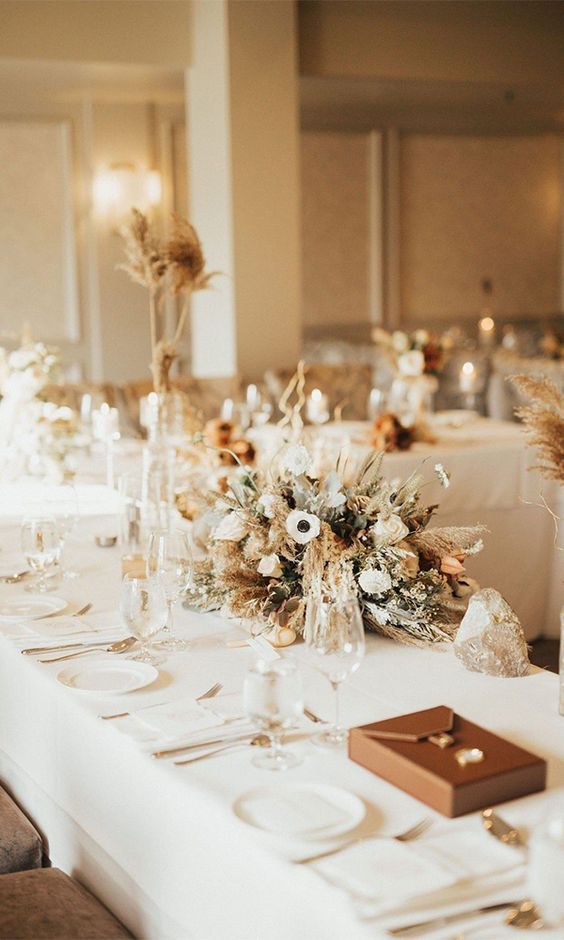 10. Various Browns
Brown on my own tends to lack punch, so it is frequently used in aggregate with an accent color. The color pairing is how you will be in a position to set a tone and create an ambiance for your wedding. Depending on your selected complimentary coloration, your brown wedding ceremony can be clean and flirty, current and edgy, or glamorous. It is all in the details.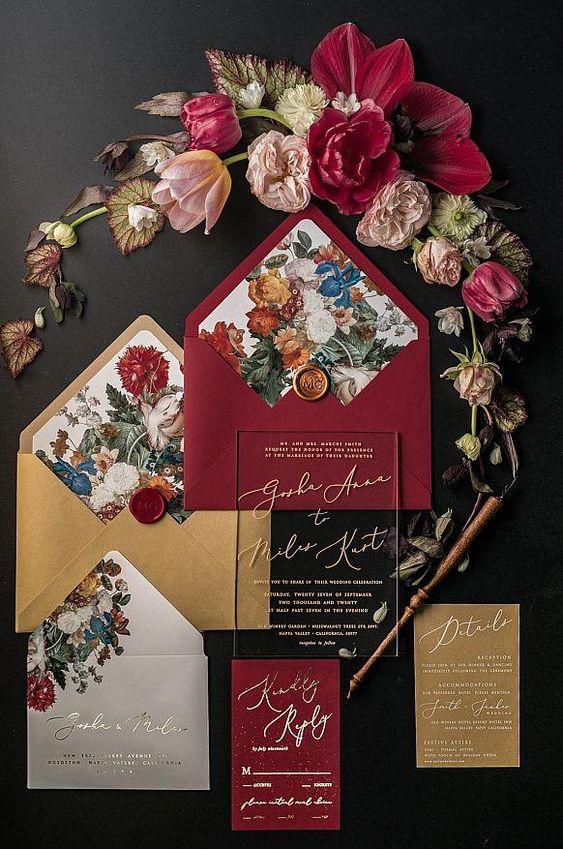 11. Deep Red
Deep red is a sassy color, and the bride herself would possibly prefer to get in on the fun. Perhaps you will be carrying a typical white bridal robe with a long veil.
Underneath the traditional bridal ensemble, how about a spicy pair of shiny purple excessive heels? One bride I knew once had a customized wedding ceremony robe lined in vibrant crimson silk.
Then, as she walked down the aisle, it seemed like she was once carrying a simple white wedding ceremony dress; however, when she began to dance at the reception, the white layers spun away,
revealing the crimson lining. These sorts of small print are a high-quality way to put your non-public stamp on your wedding ceremony ensemble.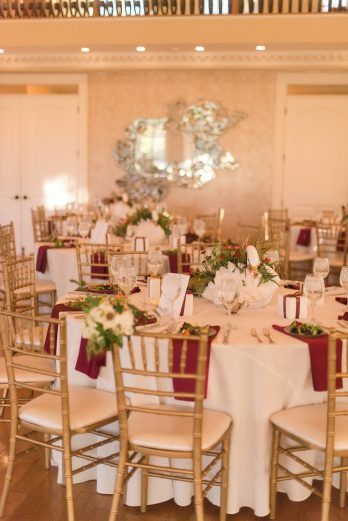 12. Wine
Your wine preference can additionally allow you to customize your wedding similarly. For instance, you would possibly serve the wine that you had on your first date or the variety your dad and mom drank on their wedding ceremony day.
Depending on where you may be preserving your reception, you ought to pick a wine from a nearby vineyard or pick one from a preferred holiday spot or your honeymoon destination.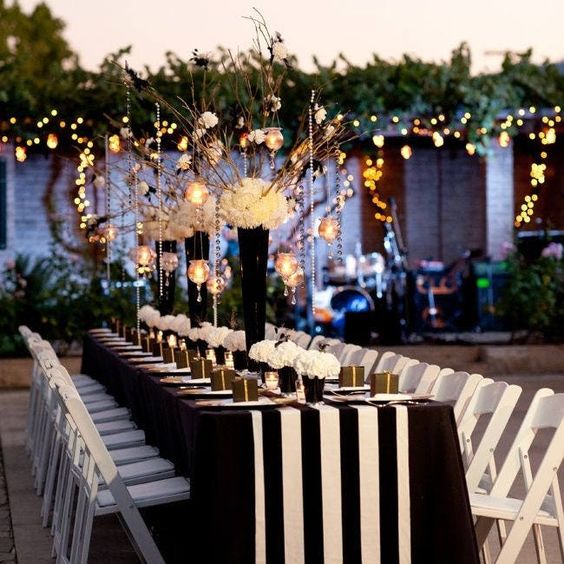 13. Navy Blue
Blue is a tremendous shade to use at a wedding. It comes in many unique shades, from traditional navy to female child blue, to well-known Tiffany blue. Even the most pastel coloration of blue will be more applicable to most grooms than a color like purple or lilac, which is a plus. In addition, blue can be mixed with different hues to create a unique effect.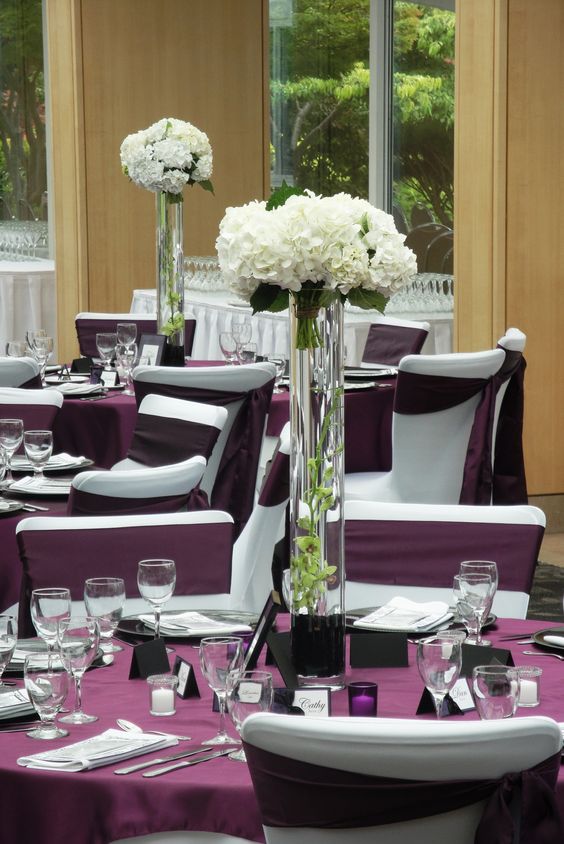 14. Deep Eggplant
Deep eggplant crimson is every other superb shade for a fall wedding and has the richness of the basic autumn shades.
However, it is now not a frequent choice; eggplant can be mixed with metallic gold or copper for the most regal elegance.
If you sincerely desire to make the eggplant appear as wealthy as possible, you are looking for fabric in that color that is made in luxurious velvet. It is incredible for bridesmaid dresses, as nicely as bridesmaid earrings gifts, dramatic draped material in the reception venue, customized stationery, and flowers.
This coloration palette works equally well for an afternoon or a night wedding.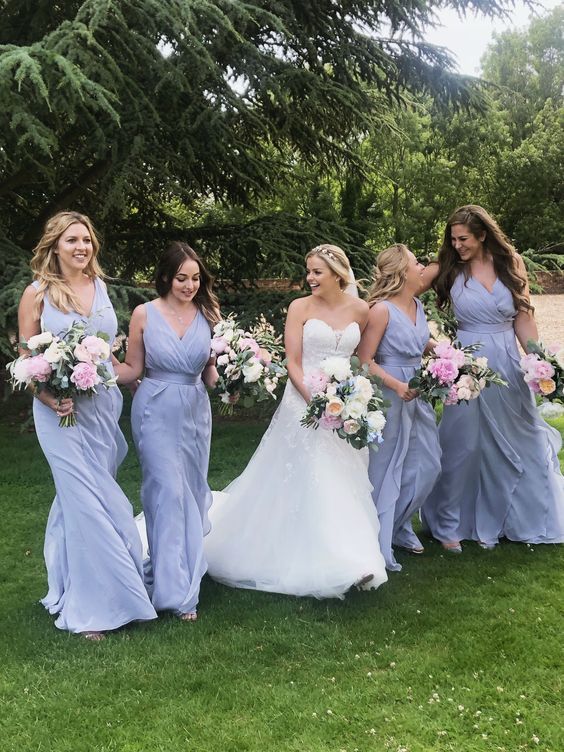 15. Pewter
Match pewter. Match's northern Italian artisans have blended ordinary methods with contemporary aesthetics to create the Convivio pewter collection, a lovely mixture of white ceramic seamlessly inserted into pewter rims. The result is a unique set of inherently romantic dinnerware.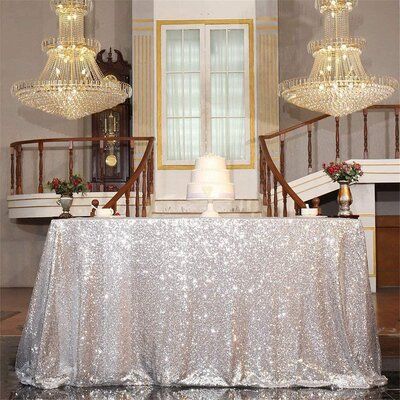 16. Silver
It is one shade that works with nearly everything and will certainly work with your navy dress. It is an exceptional coloration for rings worn with the costume for a nighttime event. A fashion can be carried out using stable silver and actual gemstones for the bridal headpiece, brooch jewelry, or necklace.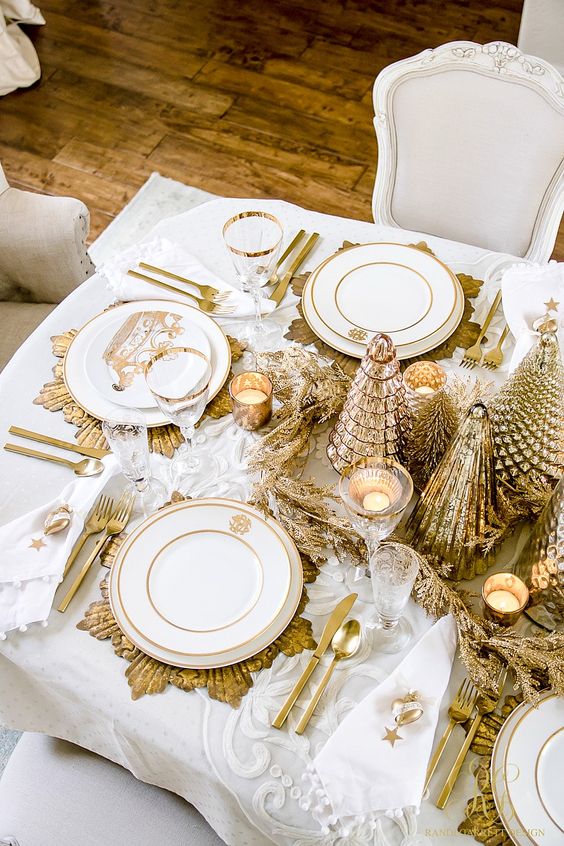 17. Silver and Gold
Silver and gold are shimmering and stylish for a wintry weather wedding. The two colorations are low in distinction but excessive in magnificence and state-of-the-art style.
The bride can pick a wedding ceremony robe with elaborate silver and gold steel embroidered details.
The motif from the bridal robe would be a fantastic format factor for the wedding ceremony cake, naturally piped in silver and gold frosting. For your bridesmaid dresses, pick one shade or the other.
An incredible way to use silver and gold in the wedding ceremony plants is to use herbal factors lined in metal paint. Think of gold pears, silver leaves, and even pinecones painted in your signature shades for a seasonal accent.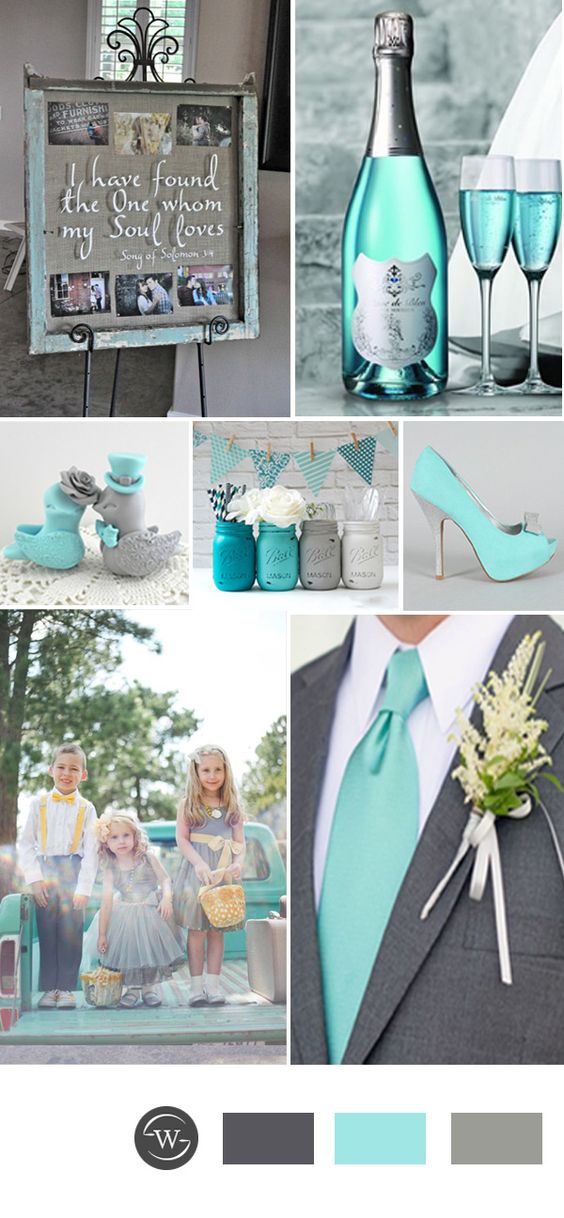 18. Turquoise
This shade will work nicely with the navy blue dress, mainly at some stage in daylight hours events. You can pick whatever, from turquoise rings and necklaces to bracelets with turquoise stones. It is the shade to go for if you are headed for a casual affair, birthday party, or a door wedding.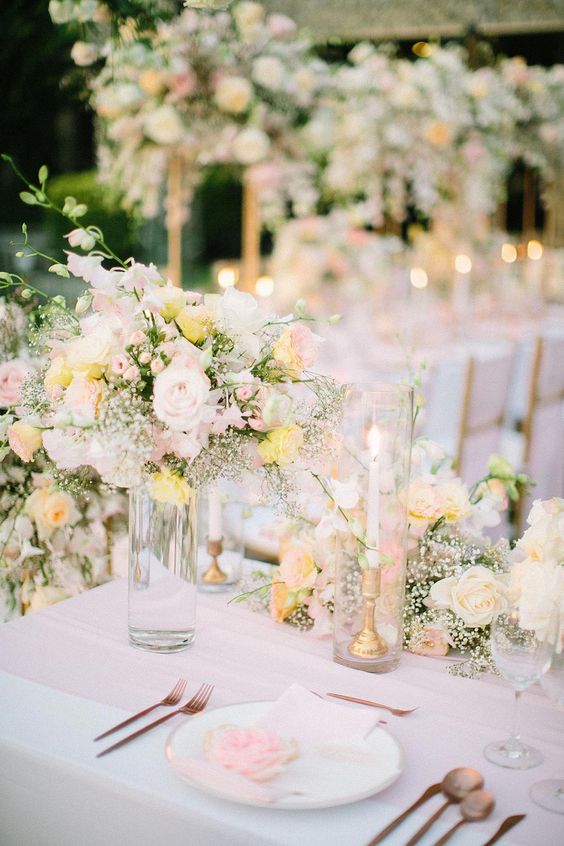 19. Pale Yellow
Yellow can be worn in a range of unique approaches through the bride. For example, a mild yellow gown would be an appropriate replacement for the traditional white wedding ceremony gown.
Or there may also be white clothes with yellow embroidery or elaborations that will be best for this theme.
If the wedding ceremony is informal and set in a garden, the bride can add a stunning yellow flower to her hair as an accessory.
Since yellow is a favorite color, the relaxation of the wedding ceremony celebration will have no hassle discovering the best ensemble look.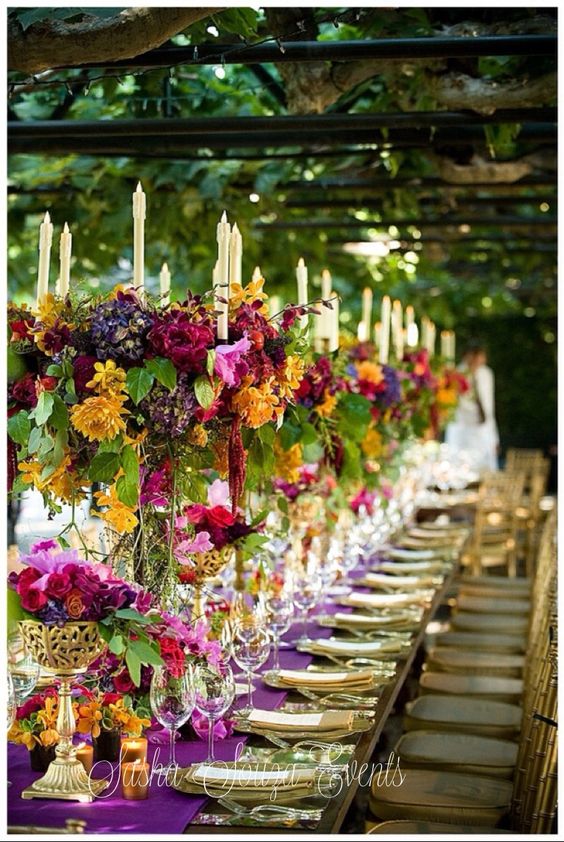 20. Grape and Magenta
Grape and magenta are unique colors for bridesmaid dresses. Some magnificent ones are handy in deep purple.
If you like clothes with a modern-day twist, choose a sublime one-shoulder gown in grape or magenta. Just steer clear of summery fabric like chiffon and organza. Dramatic crystal bridesmaid earrings made with amethyst-colored crystals would be tremendous with modern-day dresses.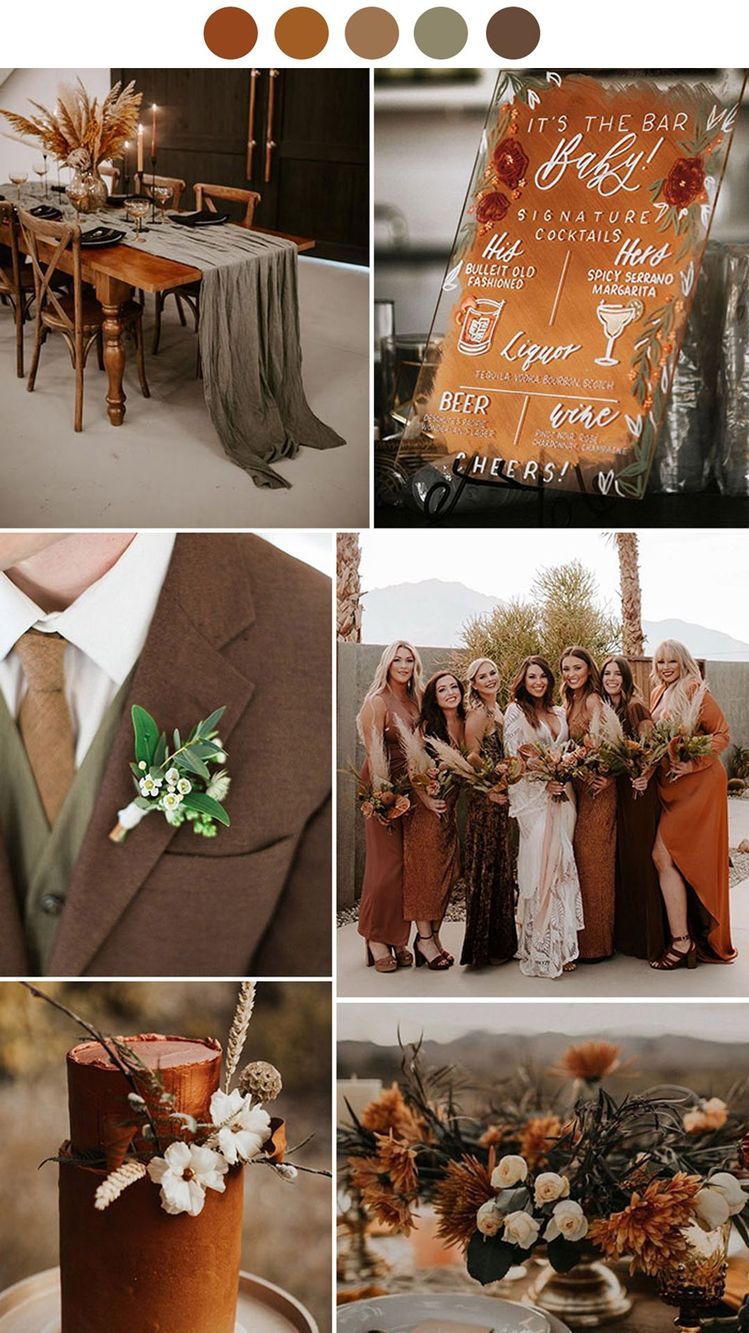 21. Chocolate Brown
Speaking of chocolate brown, it is usually a gorgeous color for an autumn wedding. To avoid the stereotypical fall palette, do no longer pair brown with coloration like orange or sunflower yellow.
Instead, make your wedding ceremony upscale and elegant by combining heat chocolate with wasabi green.
The pairing is unexpected but very beautiful to the eye. Try placing your tables with chocolate dupioni tablecloths with inexperienced wasabi napkins as an accent.
You can additionally use this pairing for elegant invitations, bridesmaid dresses, and much, a whole lot more.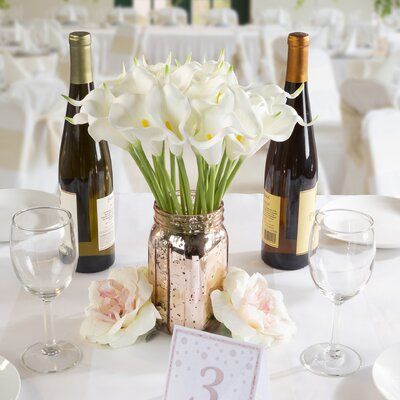 22. Calla Lilies
Calla lilies are every other fall wedding ceremony flower that receives excessive marks for Fall Wedding Colors availability. Mini Callas in mango or orange are attractive for small bridesmaid bouquets.
They make a brilliant accent to brown clothes worn with bridesmaid earrings in fall colors.
Mix the mini Callas with roses, Asiatic lilies, and orchids to create a dramatic bouquet for the bride. Calla lilies are also famous for fall because they develop in intense crimson color, almost black.
It makes a state-of-the-art addition to the wedding ceremony bouquets or stands by myself very correctly for a Halloween wedding.
Read More;
Helpful Tips for Wedding Theme(Ultimate Guide)
Above photo source from Pinterest.
---
by admin
---
---
---
---
News for Thursday 19 May, 2022
---
View all news for Thursday 19 May, 2022 on one page
---
---
---
Recent News
---
---
---