Details
Product Description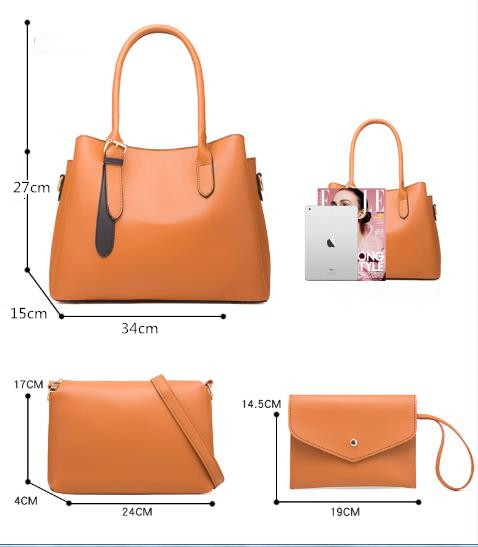 High-quality Material: The women's handbag set is PU leather with tear-resistant polyester lining and durable gold hardware. The stitching is well-made, running smoothly and evenly, and feeling soft. It can stand by itself with double-layer reinforcement on the bottom.
It's a fantastic gift for ladies and women on Birthdays, Valentine's Day, Mother's Day, Christmas, and Graduation.
Convertible Carrying Ways: The tote bag has a detachable/adjustable long shoulder strap as a tote bag/shoulder bag/hobo bag/crossbody bag. You can adjust the long shoulder strap according to your needs. Besides, the handle is strengthened with solid rivets to bear a large capacity. It is excellent for casual or official occasions such as traveling, shopping, dating, working, etc.
After-Sale Service: We are committed to providing each customer with the highest standard of customer service and top-quality goods; if you are unsatisfied with our product or service, please feel free to contact us by email.
What is an affordable handbag for women?

Women in today's world have to carry tons of things with them wherever they go. Hence, they always have to take handbags with them. But, given that these bags are costly, most girls must spend tons of cash to purchase them.
However, in these harsh economic times, most people cannot pay extra cash for anything. Instead, all individuals attempt to save the maximum amount possible while buying whatever they have.
Thus, it's no surprise that affordable leather bags have been fashionable among women lately.
How are they so affordable?
Many manufacturers have outsourced their work to countries like China, India, and the Philippines, where the production value is meager, whereas production capacity is exceptionally high.
Hence, the manufacturers are ready to produce these handbags at meager prices and can sell them to consumers at rock-bottom prices.
The manufacturers don't need to compromise with the standard of the merchandise or the quantity of profit they create to supply them at low prices.
What about the quality?
Remember that not all affordable handbags are made of the most explicit quality material.
Certain manufacturers compromise with the standard of the products to supply them at low prices. Hence, it's essential that you only purchase from those manufacturers that supply good quality products at affordable rates. You'll quickly find manufacturers on the web who provide you with the most superficial, cheap handbags.
Where do I buy them?
You can look for low-priced handbags and small bags by searching on luxurysmallbag. It is the best search for women.
They can find what they want in a short amount of time. For example, you should develop a list of online handbag stores and shopping websites with a few choices.
Tags
Reviews
---
Displaying 1 to 13 (of 13 reviews)
Kenndy Montes.
05/25/2018
I bought for my mom.She is really socially invipved and is always attending different social events and parties and always has sophistication s with tidy hand bags. She said she really liked this gift....
Jeannie Holley.
05/23/2018
Absolutely stunning!!!! I love the fact that you can wear it as a clutch or a shoulder bag!!!! I love the larger size of the bag as well!!! It fits everything!!! I love with this and don't let me get started on the beautiful detailing inside and out!!!!...
Holds my phone and camera. It also has a pocket for cards.
ordered this purse to use at my daughter's wedding. It comes with two different lengths of chain. Plenty of room for a cellphone and other small items. Nice solid construction, stays securely closed and yet is easy to open. Fun little purse in beautiful colors!...
Maryellen Bogert.
05/20/2018
Really cute , just as expected. Arrived on time and looks exactly like the photo.
Jordi A. Fabara.
05/18/2018
Beautiful bag. I got it to take to my son's wedding and it matched perfectly with my dress.
Brittany N. Fetter
01/10/2018
Beautiful bag!! Matched perfectly with my dress that I wore to a gala I had to attend. Fast shipping too!
I needed a clutch for a night on the town and this was perfect. It seemed to be make pretty well and was super cute.
I love this purse. I wanted something kind of classy looking & not too large and this is perfect. It looks so good - I am almost hesitant to use it for fear of getting it scratched, etc.
I absolutely love this clutch purse! The picture gives it no justice and it is bigger than what the picture shows.
Just what I wanted - elegant looking and large enough to hold my stuff. Good value for $46.69
Great bag! Larger than I thought. Perfect for me. Worth the money. Looks more expensive than it was.
Very well-made. Beautiful
Displaying 1 to 13 (of 13 reviews)