Details
Product Description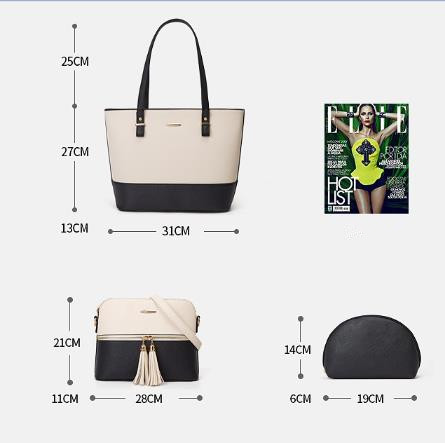 High-quality Material: The women's handbag set is PU leather with tear-resistant polyester lining and durable gold hardware. The stitching is well-made, running smoothly and evenly, and feeling soft. It can stand by itself with double-layer reinforcement on the bottom.
Fantastic gifts for ladies and women on Birthdays, Valentine's Day, Mother's Day, Christmas, and Graduation.
Convertible Carrying Ways: The tote bag has a detachable/adjustable long shoulder strap for use as a tote bag/shoulder bag/hobo bag/crossbody bag. You can adjust the long shoulder strap according to your needs. Besides, the handle is strengthened with solid rivets to bear a large capacity. It is excellent for casual or official occasions such as traveling, shopping, dating, working, etc.
After-Sale Service: We are committed to providing each customer with the highest standard of customer service and top-quality goods; if you are unsatisfied with our product or service, please feel free to contact us by email.
Is It Worth Getting A Designer Handbag?
Handbags that famous designers make are very appealing to women lately. Copying styles from favorite celebrities makes women feel glamorous and sexy.

Most designer handbags are incredibly durable. For most girls, durability is among the foremost vital things a bag or other handbags must possess. For example, women tend to love the appearance of purses, leather handbags, or wallet handbags that will last for years. But, yes, women do spend tons. This investment is often reasonable, especially considering a designer handbag lasts through many seasons of wear and tear.
The handbag design style;
And what else is often more important than the design? Women like to look stylish and sexy. Designer handbags have exquisite and timeless designs and prints. Women can't get enough designer shoulder bags, leather handbags, and more designer bags.

The quality functionality of the bag
However, if you would like to shop for something that will combine quality with functionality while retaining aesthetics and price, you'll get to put some thought and research into buying. Of course, it'll need to be something you like, but it will not be the newest handbag your favorite designer has produced.
The handbag trend
Some people could also be ready to afford a replacement bag every season to stay up with the trends, but most folks aren't there in place. So that's why the designer bag you buy must be timeless and trendy at the same time.
The color of the purse
These designers aim to supply a variety of purses that will remain fashionable precisely due to their design. You'll fall crazy with the season's color, but the color will often fall out of fashion. You'd be happier going with a classic color. Bright green could also be passé during a year, but tan and black never will. You'll always be ready to fit them into your wardrobe, and there'll always be a pair of shoes or boots that match.
Color isn't the sole reason. Believe your needs. Does one need a bag for work or something fabulous to require a call in the evenings? Very likely, you'll need both. Buy something covering a spectrum of needs, from business to non-public, casual to formal. The more you use your handbag, the higher its value. Timelessness may be a reason; intrinsically, bags are often used everywhere and anywhere. Designer handbags are timeless; the designers wanted them to be that way.
Finally, consider the standard. The thing about genuine designer handbags is that they're always of supreme quality. They were made to a T to satisfy the foremost discerning customers. Although you do not consider yourself a perfectionist, there's no reason you ought not to own a bag made for perfectionists. A handbag well worth the price will last an extended time. A well-made designer handbag will cause you to smile because it's gorgeous and on top of its functionality.
We sell New Designer Handbags. The handbags carry the designer's cards and Brand Name Logos. We sell at Low Wholesale prices where you can save money. Visit our Authorized website.

Tags
Reviews
---
Displaying 1 to 20 (of 23 reviews)
The package arrived very quickly. It is well made and has nice pockets and lining inside.
Melissa Leach.
05/29/2018
Lovely evening bag which is perfect for my daughter's wedding. Especially chose this one because it's large enough to hold my iPhone 7 Plus phone. Perfect for a dressy occasion. Very classy looking with the pretty pearls. Just what I was looking for!...
Omg got sooooo many compliments when I carry this bag, even on vacation to Florida by strangers. It's quickly become on of favorite bags!! Love! Love! Love
his is an absolutely stunning clutch at an awesome price! I love the elegance created by the gathered material and band of clear gems that shine attractively. There is a chain attached which you can use to carry the clutch like a purse, or you can remove the chain if desired. It is very roomy and can hold a phone, keys, money, chapstick, and many other smaller items!...
Lana N. Mcletchie.
05/21/2018
could go on and on about this cluch. Its exquisite!!!! So beautiful....i love the flower details and the fabric is a winner. It comes with a short gold chain strap and a long chain strap or can be carried as a clutch...
I love this beautiful evening clutch. It is elegant looking and it is great for weddings and formal events. I am going to buy another one for my friend because she loved it so much.
Very nice clutch. It will hold my iPhone 7 Plus along with other necessary items you would need on an evening out.
Charlotte Salluce.
05/19/2018
Absolutely love it. Very high end looking without the high end price. Roomy also
Alisha Hoover.
05/19/2018
This clutch is absolutely beautiful! Besides being beautiful it is roomy enough fo my keys, cell phone and other must have items. I am sure I will use it again and again!
This was a cute little bag. The bling wasn't that blingy but it worked for the occasion. Nice and inexpensive.
I love this bag!! Bought it for a trip to nyc and it's perfect. Small, classy and fits in your hand. Highly recommend.
Larissa Shirley.
05/18/2018
This bag is really petty and can be carried as a clutch if you don't want to use the chain shoulder strap. If you have any problems with the bag, the seller is very quick to fix the problem.
I bought this 2 days before a wedding I was invited to and it arrived on time and matched my dress beautifully!
JoAnn LaVerdure.
05/06/2018
Pretty purse for my upcoming wedding. Nice size to fit cell phone, wallet and a few other things. For the price I was very surprised how nice it was!
This was very cute, got it for my daughters prom. It was a perfect match for her red dress. It's easy to hold and can fit a phone and wallet.
Yanira L. Rivas
01/10/2018
They look great. Elegant and cute. I just hope my bridesmaids and the groomsmaid like them. Got them to go with navy blue dresses as part of their bridesmaids gifts. Groomsmen are wearing light grey as well as the groomsmaid. Was thinking of getting her a different color but I think this one will work....
Exactly what I was looking for! You can't beat the price. I wanted something simple/beautiful to use for my wedding and I'm on a budget.
kerryann stone
01/08/2018
Price is right ! Perfect for casual or semi-formal occasion!
I love my clutch. Great quality!!
This is awesome. Absolutely what i expected.. Nice
Displaying 1 to 20 (of 23 reviews)