Details

Product description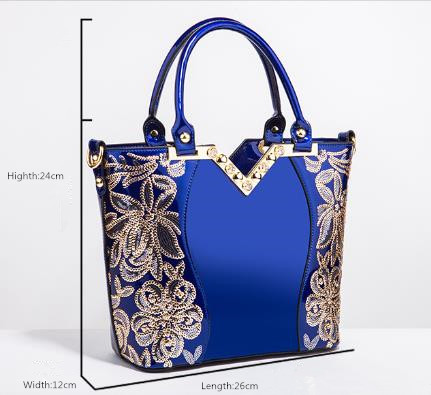 High-quality Material: The women handbag set is made of high quality PU leather with tear-resistant polyester lining and durable gold hardware. The stitching is well-made as runs smoothly and evenly, feels soft to touch. It can stand by itself with double-layer reinforcement in the bottom.
Awesome gifts for ladies and women on Birthday, Valentine's Day, Mother's Day, Christmas, Graduation.
Convertible Carrying Ways: The tote bag comes with a detachable/adjustable long shoulder strap so that it can be used as tote bag / shoulder bag / hobo bag/crossbody bag. You can adjust long shoulder strap according to your needs. Besides, the handle is strengthen with rivets which is solid and strong enough to bear large capacity. It is great for casual or official occasions such as traveling, shopping, dating or working etc.
After-Sale Service: We are committed to providing each customer with the highest standard of customer service and top quality goods, if you are not satisfied with our product or service for any reason, please feel free to contact us by email.

What is your favorite bag and why?
In today's market you'll find many various handbag styles. the choice is completely amazing. you'll choose between sort of colors, different shapes, materials, and sizes. of these diverse handbag styles are available for various occasions.
you'll plan to accompany a typical rectangle or square shaped bag otherwise you might prefer more trendy shapes like oval or triangle. albeit these styles might look a touch strange to you,
Here show some fashion trend bag for your reference;
Generally not much larger than an outsized wallet that his held within the hand. Womens purses have grown in popularity lately with fashionable styles

Wristlet bag
strap that slips over the wrist, usually removable, is attached to a clutch or bag . inspect great styles from luxurysmallbag

Evening Bag
Evening bag for more formal occasions, often made from satin or beaded fabrics. could also be in clutch or wristlet style

Hobo typically an outsized , slouchy, crescent-shaped bag with a strap . These are generally made from soft materials that slump when set down, though some designers have made bags within the hobo shape out of stiffer materials during a big selection of sizes.
Clutches
Clutch is that the most ordinarily used evening handbag style. it's alittle and typically long rectangular narrow shape bag that's designed to be carried within the hand.
Clutch has its own spot within the handbag's world that's the cherry on top of your elegant and fashionable cocktail outfit.
Clutches were designed to be large enough to suit your essentials for the night out like keys, credit cards, money, cell-phone, and a smattering of cosmetics you would possibly need. Small black or tanned clutches will certainly compliment your dress that's more daring and bigger clutches are more often paired with less formal attire like jeans and boyfriend blazer.
As you'll see there are many various handbag styles to settle on from. you only got to match the styles to specific occasions and off you go.
Handbags are a part of every women's life and are absolutely favorite accessory within the fashion world.
We are all lucky that the world's famous designers always attempt to please every women's taste and launch every season the amazing pieces for us to settle on from.
Main thing enjoy your shopping and if you'd wish to determine more about other handbag styles
Tags
Reviews
---
Displaying 1 to 7 (of 7 reviews)
Maryellen Bogert.
05/20/2018
absolutely gorgeous went perfect with her outfit,Pretty bag. Will be using for a wedding.
Beautiful little clutch purse, not too big or small. Fits everything nicely a lady needs, phone, keys, lipstick, compact mirror..looks wonderful and came right on time.
Great quality for the price. Purse was elegant I bought two for bridesmaids
This purse is beautiful. Roomier inside than I thought. Highly recommend it.
I love how light and beautiful looks, I highly recommend it.
barbara dawson
02/02/2018
i bought it for my best friend to take to a wedding & it exceeded expectations would order from Milisente again for sure!!! was absolutely beautiful!!!
This purse is so pretty. Everyone at my holiday party complemented it. It was even better than expected. Thank you!
Displaying 1 to 7 (of 7 reviews)