Friday 09 August, 2019 |
---
Useful Tips for Wedding Theme(Ultimate Guide)
by admin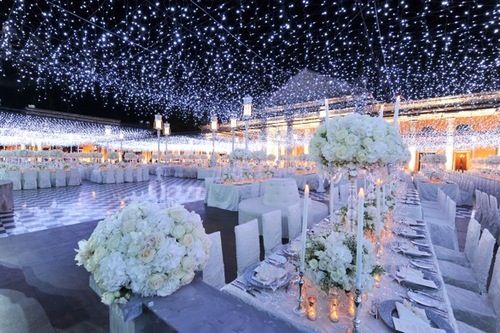 Once you have decided on the when it makes perfect sense to design your wedding theme to suit your personalities and the time of year! Here are a few tips for your theme
Beach Wedding - As the inclination for a relaxed and casual style of wedding is on the rise, we will certainly see an increase in the number of Beach & Destination Weddings this year!
So choose a long flowing sundress, kick off your heels and go naturally barefoot to your ceremony. Make sure that your invite states that 'thongs' and sandals are welcome and that you have plenty of water bottles in an ice-filled bucket on hand at your hot beach location.
With all that in mind, there are so many different ways that you can decorate your ceremony and then, of course, follow the theme through into the casual evening reception.
And don't forget, after your big day is over and you wake up in the comfort of your beach fronted resort make sure that you call your photographer back, put your dress one last time for the ultimate wedding shoot...
Trash the Dress! This will be the perfect and most creative ending to your wedding adventure and will make brilliant photographs for a follow-up 'Thank You' to your friends and family for sharing your special day! A little out of the ordinary but certainly lots of fun!
Woodland Rustic Country Wedding - Yet another trend for 2012 wedding themes brings us the Rustic Woodland Country look, think natural wood effects, shades of green, love birds outdoor settings and enchanting trees.
To suit both outdoor and indoor weddings this woodland rustic chic can be carried across all decorations, bouquets and your Bomboniere!
You can combine this with a country music theme or a barn dance style for a really unique wedding.
Don't just think brown... Shades of teal mixed with birds, twigs, moss and peacock feathers are the perfect complement for a rustic wedding.
Sparkling Diamond Themed Wedding - A diamond ring is a thoughtful gift of promise, an engagement of two people with the same intentions of marriage. They are so unique, and to most, a diamond will symbolize love and eternity.
The expression 'diamonds are forever' is in fact not far from the truth, since diamonds are the hardest of all the gemstones and will last a very long time... this to is symbolic of a love worthy of marriage also said to last an eternity.
With such a powerful gem beginning your journey to everlasting love, it is only right that this theme is continued through your wedding day and be shared with your friends and family.
Although, of course, it would be considered a little excessive to shower your guests with real diamonds... perhaps you can just consider some subtle sparkling in your decorations.
Winter Wonderland Wedding - As much as we would not like to wish the summer away the popularity of a winter wedding is certainly on the up and there will be plenty of brides who will be busy planning their fairytale winter wedding for this year's snowy season!
The good news is that sleeves and high necklines are back in so remember that when you choose your wintery bridal gown.
Plus you can add an elegant faux fur bolero or a snug cashmere wrap for some extra warmth.
When thinking about your wedding colors and wintery theme you should go for a combination of white, ivory, cream and pale blue flowers for a cool effect.
There is no shortage of popular wedding flowers in winter. Gerberas (gerber daisies) in their multitude of colors are available, as are tulips, roses and chrysanthemums.
Candles-Candles are also perfect for a winter wedding as they create a warm romantic atmosphere, plus there are so many different colors available that you will have no problem matching the scheme of your wedding.
Garden Wedding - Why not delve into the enchanting set up of a garden wedding.
This certainly is a route that will give a very personal touch and you can go for a small and intimate gathering or a grand ceremony.
Perhaps you have fond childhood memories of a local park, a recent attachment to the botanical garden that you first wandered around as an engaged couple or simply love your granny's flourishing backyard?!
Wherever you choose for your garden wedding be sure to also set a relaxed theme with laid back music for the ceremony and carry your ideas through to your reception.
Choose natural colors, perhaps wooden vases or dried cut citrus fruit for your centerpieces.
You could also bring elements from your honeymoon - maybe you are jetting off to Singapore and would like to add orchids to your table decorations and bouquets.
More Trends...
Wedding Flowers - The trend for wedding flowers in 2020 has been announced as "Neutral: soft romantic floral with soft color fabric accents".
Perhaps you will choose a champagne color scheme and incorporate ivory or pale yellow roses into your bouquets.
You could opt for pink oriental lilies, gerberas and carnations as part of your posies or have a single trailing bouquet with pink roses and orchids.
Whether you choose to go with this year's trends or even if you go against the grain and design your wedding theme using bold and bright colors there are so many fantastic designs and decoration styles available to reflect your color scheme and match in with your flower choice too.
Wedding Reception - Being up to date on the latest trends is a fantastic way to get inspiration when planning your wedding reception.
There are so many things to consider, obviously there is the venue itself, this will depend on the formality of the day and of course the theme you have chosen.
With all venues you will have to consider what is fashionable and with the up to date styles leaning towards Ivory and Taupe Colours and Vintage with a Modern Touch what better way to capture this at your wedding than with an accessory that looks vintage and feels modern.
Some of the favorite styles in vintage design to suit this trend include demask-esque black and white, vintage roses and soft browns.
Choosing the right dress code to match your theme...This will be a major element in making sure that you set the right tone for your big day!
This is really important, not only for your groomsmen but for your guests as well - no one likes to rock up to an event either under or overdressed!
There are five main dress codes that you may consider for your wedding, these will all help you to determine the formality of the occasion and create the perfect atmosphere for your fabulous wedding!
Bridal Accessories That Will Compliment That Perfect Dress Theme
When planning your wedding, it is easy to see that all the details add up to more than the sum of their parts.
An otherwise ordinary venue can transform into a virtual paradise with the right decorations.
The same theory applies to your bridal accessories. These items will be sure to inspire smiles and cheers from your attendants and guests.
Veils:Bridal veils come in many different shapes, sizes and lengths. When planning out the right veil for your wedding day, it is important to consider the season, wedding theme and style of your dress.
Summer weddings might call for a shorter veil, while winter ceremonies may require something a little longer.
Blusher Veils: Blusher veils consist of a single, see-through layer of tulle or netting. They come in two distinct styles.
Traditional blusher veils are worn over the face during your walk down the aisle, and then either the father of the bride or the groom lifts it up during the ceremony.
Modern veils are great for creating a "retro" or vintage feel. You can wear these veils all throughout the day.
Short Veils: Short veils just sweep across the bride's shoulders.
They can be composed of one single, lightweight layer or multiple layers of fabric. Short veils are ideal for daytime weddings or casual affairs.
Some brides even choose to switch from a long veil during the ceremony to a shorter one during the reception.
Mid-length Veils: These versatile veils often come with multiple layers and extend down to somewhere between the elbows and fingertips.
If you don't want to go all-out with an extra-long veil, a mid-length style is a perfect compromise.
They look great for photographs taken with your veil blowing gently in the wind!
Cathedral and Chapel Veils: These long, flowing veils extend several feet behind your wedding dress.
They look breathtaking and glamorous while you walk confidently to meet your husband-to-be. Chapel and cathedral veils help to elongate the silhouette and look incredible in portraits.
Of course, veils aren't the only way to spruce up a wedding outfit. Oftentimes brides combine them with stylish wedding headpieces.
Combs: Picking out the right wedding hairstyle for your wedding day can be nearly as stressful as finding the right dress. bridal hair combs help to add sparkling accents to updos and other hairstyles.
They come in different varieties and often feature dazzling crystals, rhinestones and pearls.
Wedding headbands: Looking for a way to separate distinct parts of your hairstyle?
Stunning headbands are available for brides, dynamically designed and perfect for bringing an outfit together.
You can find them with crystal embellishments, floral rhinestone motifs, and even colorful three-dimensional ruffles.
Tiaras: Always dreamed of feeling like a princess on your wedding day?
Then brightening up your look with a wedding tiara might be the right choice for you. These look great with updos or flowing hairstyles.
Many can even be paired with a variety of different veils. Tiaras often come highlighted with pearls, rhinestones, crystals and more.
Shoes:Deciding on the right pair of shoes for your wedding day is a tricky proposition.
As much as you want to go for the best style, you also have to consider that you will be walking around in them all day long.
High Heels:Of course, high heels do a fabulous job of elongating your figure and making you look your best. But the long day ahead of a bride can make them a little bit intimidating.
Many brides get around this by only wearing their heels during the ceremony and photographs.
Afterward, they discreetly change into a pair of flats or even sandals for the reception.
Purse;The right clutch purse completes your wedding theme, and they come in different styles: handbag purse, evening bag, clutch, designer handbags, handbag, and many more.
They come in different shades too, so you could match it to your outfit. If you want, you can even have them personalized with your name or initials.
If you don't know which purse to get, you can choose from a wide variety of styles, depending on the occasion.
Dyeable: Dyeable shoes are great for creating a cohesive look between the bride and her bridesmaids.
The bride can simply wear a white or ivory version of the shoes, while the bridesmaids can have the same style dyed to match the color of their dresses.
Finding The Perfect Wedding Dresses... All heads will turn as the beautiful bride makes her grand entrance on the biggest day of her life!
As we all know to find your dress needs to be just like finding your groom... the perfect fit!! and as we also know that we are all unique we have to consider both personal taste and of course our body shape when making the choice!
Make sure that you do a little bit of research about what will best enhance your wonderful figure!
Here are some examples as to which styles suit so that you can make sure that you look and feel fabulous on your special day!!
The Hourglass - Hips and shoulders are a similar width with a defined waistline. Choose from A-line, Ball Gown, Princess Line or Fishtail.
The Pear Shape - Hips are wider than shoulders. Look for A-line, Asymmetrical, Princess Line.
Straight and Slim - Hips, shoulders and waist are similar width. Look for Ball Gown, Sheath, Empire Line.
Square - Shoulders are wider with similar hip and waist. Choose from A-line, Asymmetrical or Ball Gown.
Triangle - Shoulders are wider than hips. Look for: Cocktail or Fit n Flair.
Conclusion;With all that said the most important thing to do when planning your wedding is to remember why you are getting married and to enjoy yourselves... after all, this will be the biggest and most fantastic day of your lives and the beginning of a wonderful adventure!
---
---
---
---
---
News for Sunday 04 August, 2019
---
View all news for Sunday 04 August, 2019 on one page
---
---
---
Recent News
---
---
---