Monday 14 October, 2019 |
---
Top 5 Bridal Jewelry Ideas Should to Know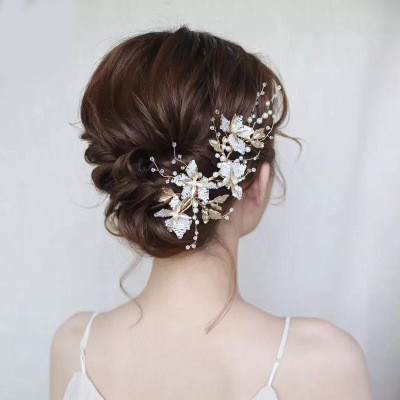 If you find it challenging to choose your bridal jewelry, here are the top five tips that will make it easier for you to get the right Jewelry, emphasizing your wedding gown and making you even more beautiful throughout the most special day in your life.
Consider Cost
If you believe that your bridal Jewelry is just an accessory for your special occasion, you had better hire it.
However, finding a trusted and reputable site is tricky if you want to cherish those unique jewelry pieces forever.
Which can provide you with beautiful bridal Jewelry on your special day at a fraction of what you will pay in boutique jewelry stores without compromising quality and craftsmanship.
Do it as early as possible as you should know that the earlier you order all your Jewelry, the less risk of trouble.
It is always better to order your bridal Jewelry too early and keep it safe until the big day than cry yourself into puffy eyes because tomorrow is your big day, and you do not have a single piece of bridal Jewelry!
Even in a crisis like this, you can get help from many websites online. Even with speedy delivery, ordering your Jewelry well ahead of time brings you priceless peace of mind.
First The Dress, Then The Jewelry.
Never choose to buy the Jewelry before you see the wedding dress. Undoubtedly, gowns are the first and foremost thing we see in the bride.
Bridal Jewelry is an accessory that needs to suit your Dress. But, if you have chosen your moment to be ordinary (not-themed), some pearls and necklaces will do an excellent job for your appearance.
Remember: Budget = Choice!
A fundamental rule that you ought to know is that you should purchase all your bridal Jewelry to fit your budget.
You should always pay attention to your budget, as it is the main factor predetermining your choice.
For example, if you are a glamorous bride and can afford to buy diamonds that would look chic on your gown or veil, that is marvelous!
However, very few of us can afford that, and it is not wise to wreck your finances for fanatical Jewelry, which you are likely to pay off long after your firstborn goes to school!
You can find fabulous hand-crafted bridal Jewelry that will suit the most discerning taste and your budget with ease.
Do Not Outshine The Wedding Band
Probably, your wedding band is the most critical Jewelry for you. It should always outstand from the other Jewelry and grab all guests' attention.
You can do that when all other Jewelry highlights the beauty of your wedding ring. Do not forget that your wedding band gives new meaning to your life, and it needs to be the "king" of all accessories you are wearing; all of them should obey your ring's style and beauty.
Conclusion; Those were the five most essential tips all brides need to know about their Jewelry on a particular day.
If you follow these tips, you will have no problems as far as your bridal Jewelry is concerned. Just remember to pay enough attention to your Jewelry but do not go too far as there are many other things you should think have, such as shoes and other accessories.
Read More;
How to Choose Bridesmaid Jewelry for Wedding
How to Choose Wedding Jewelry for Bridal
---
by admin
---
---
---
---
News for Monday 07 October, 2019
---
View all news for Monday 07 October, 2019 on one page
---
---
---
Recent News
---
---
---