Friday 17 May, 2019 |
---
2019 16 Type Trend Clutch Purse Should Have for Wedding
Before you choose clutch purse for your daughter wedding, This information you should to know
Determine What You Want
Get style ideas from magazines.
Determine the size you would like to have.
Choose whether it will be for casual or formal wear.
Decide what fabric you would you like to feature on your purse.
Choose the type closure or hardware that best suits you and your purse.
Select your lining fabric.
16 type of clutch purse
Let's break down now

Choose a small bag which has pockets
Even though a small bag is not going to hold a lot of items there are varying sizes available. You may want to consider a clutch handbags that has some pockets. This helps keep items organized and easy to grab when you need them. One of the popular purses has a cell phone pocket and slots for credit cards, driver's license, and other card size documents.
Consider a clutch with a strap
Most small bridal purse comes without a handle or strap which means that the user has to hold it in their hands all the time. Depending on the activity you are attending, this can be very inconvenient. There are some situations when it would not be practical to set the bag down. Today's designers thankfully offer clutches with handles and detachable straps. For instance, Gucci has an elegant bag which has a chain strap for a very modern look.
Choose a bag that matches your body type
By design, a clutch is a smaller sized designer purse. However, they are still available in some varying sizes. It is very important to choose the clutch that is proportional to your own body size and type. Petite women can get by with carrying a small or medium-sized bag. Taller women can choose a small bag that is on the slightly larger end of the sizes.
Make your dreams come true. Jewell's fashion designer handbags at wholesale prices can save you time and money. You can shop from the comfort, convenience and safety of your home. Save up to 50% from the Manufacturer's Suggested Retail Price. The exquisite bags and accessories are New and the Quality of the workmanship and the Authenticity of the designer brand name are guaranteed.
Here show to you 16 type of clutch purse for your choice

Material: Top-grade Diamond A, which is Sparkling and Dazzling. black crystal and silver metal. silver-tone bow clasp and frame, which can be opened and closed smoothly. Soft black satin lining.

Enough to fit the big phone, Lipstick, Compact, Sunglasses, Mirror, Money, ID Card, Tissue, etc.

Chain:A long detachable O shape chain drop 22 inch, you can wear it as crossbody/shoulder or clutch in hand.

Specialty: Exquisite Bow Clasp. Beautiful Chevron pattern. Fully hand-made rhinestone. Well structured, Big Capacity, Reasonable price and Fashion design. You deserve to have it.

Occasion: It is the best women accessories to go formal prom, cocktail, wedding party, shopping or a night out. Great gift for mom, girlfriend, female friend at birthday, anniversary, valentine's day, or Christmas.
1. Material: Handmade full leather with very soft hand feeling, silver hardware, and Fabric Lining. Note: please allow slight color difference due to different monitor settings.

2. Fits most big-screen smartphone, including: Apple iPhone XS, XS MAX, 8 Plus, 8, iPhone X, Samsung Galaxy Note 8, S9 Plus, S9, S8, S8 Plus, Google Pixel 2, 2 XL, LG V30, Huawei P20 Pro, Sony Xperia XZ Premium, OnePlus 5T or any phone no bigger than 6.5 inches.

3. Wallet: Inside: a full-length apartment with cash pocket, 6 card slots and 1 interior zippered pocket for coins. Outside: one zipper pocket from the back. Large enough to fit checkbook, passport, a big screen cellphone and all other the essentials but also very compact that doesn't get in the way.

4 Removable crossbody shoulder strap was adjustable. Could be used as a wristlet or a crossbody purse while traveling.
Large Capacity: The main compartment fit up 7 Plus well, mirror, a folding hairbrush, small bottle of perfume, lipstick, jewelry.

Flower Design: the surface decorated by the variety of pearl and flowers which are made of satin and PU. The exquisite and elegant style match your various styles of clothes, dress and shoes. Made you 100% attracts lots of admiring glances.

Superior metal frame construction with shiny and fashion pearl outside and soft satin lining. It is easy to clean with ordinary waterproof (but please do not soak in the water)

Unique design: Good evening clutch bag are perfect for night out, date, cocktail party, family reunion, prom, banquet and so on .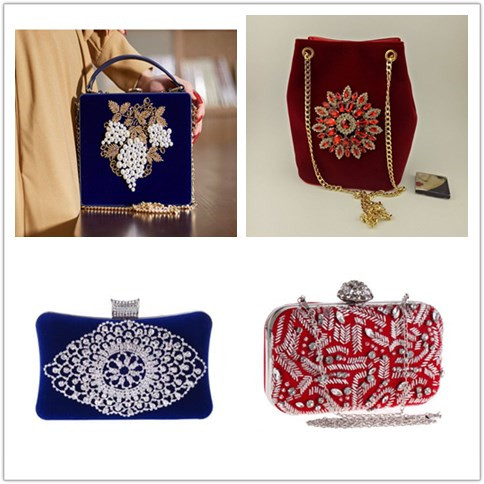 Polyester Material: This evening bag is made of high quality and special Polyester material, it has tiny glass beads floral design on the surface. The evening clutch features a detachable wristlet. When you took it, elegant, shiny and modish only for you, catch one's eye for the first time.

Unique design evening bags are perfect for a night out, date, cocktail party, family reunion, prom, banquet and so on.

Applications: Christmas Gifts, New Year's Gift, Anniversary gifts, Birthday gifts, Mother's Day gifts, Women's Day gifts, Valentine's Day gifts for her/yourself!
Conclusion;
The clutch purse is a refined fashion accessory that every woman should have. It is best to have one that you can wear with anything. Bulky purses can ruin any perfect dress and drag dirt and dust around. A clutch purse is neat and easy to carry, and should be a wardrobe staple. Look for clutch purses for any kind of event. They can be made of plastic, satin, silk, or even candy wrappers. For a timeless, classy look, stay light with this tiny bag.
---
by admin
---
---
---
2019 These 15 Essentials For Brides at Their Wedding Day

Wedding accessories and decorations are very essential in the overall appeal of the wedding. Generally, these items are picked and used according to the theme of the celebration.
Wedding accessories and decorations are very essential in the overall appeal of the wedding.
Here have 2019 15 important Wedding Essentials for your list:
1.Cakes & Confectionery
The wedding cake is an important part of your wedding celebrations. Make sure you book your wedding cake in advance as it is possible that a cake as per your liking might not be available at a later date. Cake toppers are equally important as no wedding cake is complete without them.Here have More about Wedding Cakes For You
Photo by Rowanberry Lavender
Today you get many styles of the bride and groom figurines. Some are comical whereas some are romantic and sweet, so choose as per your liking. You will require sweets and mints too if you want to place them in wedding Bomboniere like in mesh bags or favor boxes.
2.Wedding Bomboniere & Favours
Wedding Bomboniere and favors are an essential part of the wedding as they are what first greet your guests when they settle down for the reception party. You can today be so creative with the Bomboniere with theme styled favor boxes, place cards, sweet bags, stir sticks, bubble bottles, coasters, magnets, key chains, etc.These is useful 10 Unique Ideas for Wedding Bomboniere
3.Wedding hairpiece
The first thing that will determine what hair accessory you choose is the hairstyle you intend to wear on your wedding day. If you plan to wear your hair up then a beautiful comb, pin or barrette will work nicely. If you want to wear your hair down then a wedding tiara would be nice. To keep your hair away from your face you might want to choose a bridal headband while wearing a ponytail allows you to choose a nicely designed ponytail holder.Here have more about 2019 18 New style amazing wedding headpiece(Looking Now)
The choice of material for your bridal tiara, wedding hair combs or other headpieces should, of course, match or compliment the material and design of the dress and possibly even the shoes. The dress could also determine which particular headpiece you decide to go for.
As an example, if your dress features diamonds or some equivalent, you'll likely want a headpiece that features the same, in which case a tiara would be the first choice, a headband also an option.
4.Evening purse
An evening purse is more of a fashion statement rather than a utility good. It does not have much storage space but is enough to carry your basic essentials. Hence it is ideally fit for using it on any occasions or events. Because you definitely would not be comfortable carrying a sleek and stylish bag when you have gone shopping with your friends. During shopping, an ideal bag for you would be a big shoulder leather handbag where you can carry your wallet, your credit cards and all other basic necessary stuff, which you might need during a shopping escapade.2019 16 Type Trend Clutch Purse Should Have for Wedding
5.Cutlery
This includes your plates, cutlery, champagne flutes, and glasses. If you are having a theme party then you can get the cutlery customized to suit your theme. You also get a lovely bride and groom champagne flutes for the reception toast.
6.Wedding Decorations
An integral part of any wedding preparation is the wedding decorations. If you are planning a theme party then the decorations and the wedding Bomboniere has to be planned out in the same way. You will centerpieces, flower arrangements, table decorations, candles, ribbons, gifts, favor boxes, balloons, etc.Here have Choosing the right wedding decorations
7.Stationary & Guest Books
Stationery, such as wedding invites is the first thing you will have to take care of especially if you are planning a theme wedding. Guest books and pen sets are other things you will have to get as guest books and their warm comments will always be cherished by you and your family. Here have more about
4 Tips on Choosing Your Wedding Stationery
8.Ring Pillows
Ring pillows again can be customized to suit the wedding theme. You can get them in tissue, satin, and silk and in various colors too.
9.Flower Baskets
Your flower girls and boys will need decorated flower baskets as well when then precede the bride.
10.Wedding jewelry
Silver is the most popular for wedding jewelry. It has several features to recommend it. Unlike cheap base metals, sterling silver jewelry (sterling silver ring, necklace, bracelet)will remain beautiful for a lifetime. This is important, as your bridal jewelry will become one of the most treasured keepsakes from your wedding.
You will also feel good knowing that the wedding jewelry gifts you give to your bridesmaids and mothers are of a fine quality that will give them many years of enjoyment. Brides also love the white color of silver, which looks fantastic with icy Swarovski crystals and glitter. Most wedding gowns with embroidery feature silver thread, which is another reason why sterling silver jewelry is often the perfect accent.Would You Accept A Sterling Silver Engagement Ring(Why)
Gloves
Another wedding accessory especially if the wedding gown is off the shoulder or sleeveless, is gloves. Word has it the shorter the sleeve the longer the glove. Gloves will conjure up sophistication to any bridal outfit.Here also have 21 Stunning Vintage Wedding Gloves To Wear
11.The Dress
Your own wedding day might be the only time you will ever get to wear a beautiful and expensive outfit. For women, this is the only time they can justify shopping at luxury boutiques. For men, few black-tie affairs require them to wear tailored suits and tuxedos.Here have more about Wedding Dress Shopping Tips
You might only wear these clothes once, but these are items you will keep your whole life. Some might even pass it down for their children to wear on their own wedding days. Wedding attires should be memorable and should make the betrothed feel that all eyes are on them.
12.The Photos
If there is one thing you will take away from your big day, it is the memory. Nothing will compare to how you remember your wedding, but pictures are precious mementos to keep for your whole life. No matter how big or small your wedding is it pays to hire the best wedding photographers you can afford.
Photographers can capture priceless moments you did not plan. They can document the people who were there to share the joyous occasion with you. They can even make a simple wedding look magical. Hiring a photographer is hiring an artist providing you with personalized pieces of art from your big day.The Complete Guide to Wedding Photography
13.The Venue
There are many ways to save money on your wedding, but reserving the venue is not one of them. A beautiful, breath-taking location might even save you on decoration. A picturesque beach resort, a historic cathedral or ballroom, or even a gorgeous country club will need no decoration at all.Discover Signature Living's Enchanting Woodland Wedding Venue
You need space and a backdrop for your wedding. Finding a beautiful place that is convenient to go to will mean more of your loved ones will be able to share the big day with you. This will be a memorable place as well. Your wedding venue will always be a special place for you, your spouse, and your family.
14.Shoes
You certainly can't walk down the aisle without a fabulous pair of wedding shoes! Choose ones which complement the style of your gown and feel as comfortable as possible. Closed toe styles are more traditional and formal, whereas strappy sandals are great for a modern wedding. Your wedding is a great excuse to splurge on a really spectacular pair of shoes, so go ahead and indulge yourself a little.Tips For Choosing Your Wedding Shoes
15.Wedding Garter
Whether you're going for a traditional wedding or not, the wedding garter is the perfect way to add "something blue" to your outfit inconspicuously. Remember, the wedding garter is hidden underneath the voluminous fabric of your gown only to be revealed during the garter toss at the wedding reception.Here have more about INSIDE LOOK: BRIDAL GARTER HISTORY

About budget
Depending on your budget and the type of wedding you plan to host, you may want to buy certain items, but when in doubt, rent. Obviously, perishable items like food and flowers are a must. But when it comes to things that you will only wear once, like dresses and tuxedos, renting might be your best option. True, we've all spent a Saturday or two watching those bridal shows where the money is not an object. But the truth is that if you're starting your life together, you probably already have too many things. And you will never wear a dress or tuxedo again. If you can't find anything you like at a rental shop, by all means, buy. Otherwise, save your money to spend it on items everyone will enjoy, like linens and a gorgeous wedding cake.

Conclusion; These are just a few great wedding accessory options. There are still lots of wonderful wedding essentials ideas you may choose to decorate your grand celebration such as a wedding party favors.
---
by admin
---
---
---
---
News for Friday 10 May, 2019
---
View all news for Friday 10 May, 2019 on one page
---
---
---